Winnifred Winkelman: Community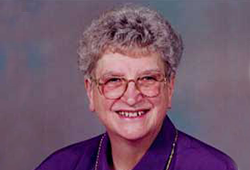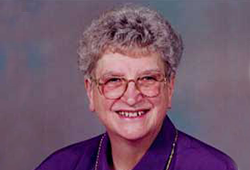 It was a cold, blustery, gray September day when I first had a glimpse of Tower Hall and the campus at The College of St. Scholastica. My Irish mother was sure that all the banshees were roaming about as the wind howled and made eerie noises swirling about outside the small guest dining room.
My introduction to campus was a bit daunting, but being at St. Scholastica opened so many opportunities for me and provided me with a wonderful relationship with the College – a relationship that began in 1947 and continues today. It is with a great deal of gratitude that I remember my teachers and my classmates. The education I received was a gateway to a whole academic experience and greatly enriched my life.
Later, as both a nun and a secular, I taught at St. Scholastica for 32 years. Again, I was privileged to have marvelous colleagues, good students, and many friends. To me, education on any level is a key to living. Benedictines have always believed in educating the whole person, and those Benedictine values are still being instilled in St. Scholastica students today.
The campus may have changed in size, teachers, demography, and buildings, but the essence of a Benedictine mission still remains strong and true to the vision of founder Mother Scholastica Kerst. That is why I wholeheartedly support St. Scholastica; and as a way of saying "thank you," I have designated a portion of my retirement savings for the College.
As a nonprofit organization, the College will receive the greatest "bang for the buck" for my tax-deferred dollars. Sharing our estate with the College through our savings, wills, deeding of property, etc. is one way of showing our appreciation for what we have been given. An investment in students is the wisest investment we can possibly make, for it creates a living legacy. The money spent by the College for student scholarships, enhanced classroom and living environments, and faculty recruitment and development all contribute to a thriving learning environment.
Not only has St. Scholastica graduated successful professionals, but also it has helped to make us better people. Thank you, St. Scholastica, for remaining true to the Benedictine mission.
– Winnifred Winkelman, Class of 1951