Dianne and Clifford Peet: A Life of Hospitality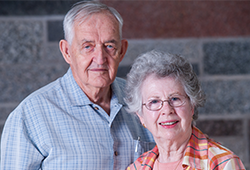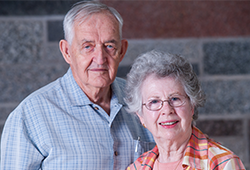 Dianne Peet is the epitome of a nontraditional student. After spending several years as a part-time student at St. Scholastica to complete her degree in dietetics (while simultaneously raising three children), Dianne graduated from CSS in 1972 - the same year that her younger son graduated from high school. "Determination" is certainly Dianne's middle name.
During Dianne's time at St. Scholastica, she was blessed to have the support of Sister Kathleen O'Brien, Sister Grace Marie Braun, Sister Timothy Kirby, and Sister Eulalie (her "guiding lights"), as each of them provided loving direction and encouragement to ensure that Dianne would graduate. This vital support further enhanced Dianne's St. Scholastica education, and planted the seeds of her future service by "providing intellectual and moral preparation for responsible living and meaningful work."
After graduation, Dianne received numerous internship opportunities in hospitals and clinics across the state. She became a Registered Dietitian in 1974, and worked at the Duluth Clinic for three years before moving to Aurora, Colorado to work at the Fitzsimmons Aurora Army Medical Center. At the Center, she was in charge of producing food for the patients at the 324-bed hospital. Dianne later became the chief dietician for the Colorado prison system - a position she held for over 10 years. She was named "employee of the year" in 1991.
Clifford Peet is equally determined. He is a retired army warrant officer with 20 years of service to his name beginning in Germany, then Korea, and ending with two terms in Vietnam, where he was in charge of food service, equipment, and medical supplies for ten hospitals and five battalions. During his first Vietnam tour, he earned a Purple Heart when he was wounded in the infantry during the TET offensive in 1966-67. (Later, Cliff received a special invitation to attend the August 2015 dedication of a sculpture at "The National Purple Heart Hall of Honor" in New Windsor, New York.)
Dianne and Cliff met in 1982 at the Fitzsimmons Army Medical Center, when Dianne hired him to help dispose of an oversupply of food service items within the Army systems. His former boss in Vietnam, who was now Dianne's colleague at Fitzsimmons had recommended him for the job! Their first date was on St. Patrick's Day in 1984 and in December, they eloped to Santa Fe, New Mexico.
Later, Dianne and Cliff founded their own business in Colorado - Design Management Professionals - that specialized in food service industry training. Their travel and service opportunities included a visit to Bogata and Calle-Columbia in Columbia, South America where Dianne taught employees at a cooking facility how to use large-scale cooking equipment. This enabled the staff to provide meals for nursing homes and prisons from a central kitchen.
Both Dianne and Cliff are dedicated supporters of the College. Dianne served on the College's alumni board, and has made calls of support on behalf of the College. Additionally, she has hosted several alumni gatherings in Colorado and Minnesota (often preparing meals for the College's Alumni Relations staff while traveling), and received The Sister Alice Lamb Award which honors an alumna or alumnus for outstanding service to her or his profession and continuing commitment to St. Scholastica.
Their gifts have included support for the CSS student food shelf ("Hungry tummies don't study well," said Dianne), and initiating the Sister Timothy Kirby Alumni Scholarship fund, which provides support to full-time graduate students. Over the years they have also donated a number of handmade and collector items (which exemplifies Clifford's woodworking skills) to the College for various events including wood rocking horses, and stools in the shape of a treble clef. In 2002, Cliff crafted the manger for a Holy Family Crèche, which has been displayed each year on campus during the Christmas season.
These acts of dedication, service, and unwavering support truly demonstrate St. Scholastica's Benedictine value of "Hospitality." The Peets have been giving back for so many years, it is no surprise that they will continue to support CSS through their estate planning. The College has been named the beneficiary of a life insurance policy.
Dianne explains why she wants to provide future support for St. Scholastica: "As soon as I graduated from CSS I started giving back, and I've been doing it ever since. Giving back is a 'thank-you' as my teachers were my substitute family and I didn't get through school alone."
Through their estate gift, Dianne and Clifford Peet will pass along their loving support to future St. Scholastica students.